Bible Verses About Strength in Hard Times
The Bible offers a wealth of strength during hard times.
Whether it be strength to endure temporary hardships, strength to accept difficult truths, or strength to start over when life turns its toughest corner; the strength is there right in front of us.
A quick look at Psalm 46:1-2 promises God's protection and security with the words, "God is our refuge and strength, an ever-present help in trouble." This single verse serves as an anchor for many in the stormiest of seas.
Similarly, Isaiah 40:31 reminds us that we can never exhaust the strength promised from Above; "But those who trust in the Lord will find new strength. They will soar high on wings like eagles. They will run and not grow weary. They will walk and not faint."
Many have found strength through prayer, reading scripture and meditating on biblical truth. The Bible can provide comfort when we're feeling overwhelmed or lost.
There is strength in remembering God's promises, plans and purposes for us no matter how difficult life may seem in any given moment.
Ultimately, let us remember that strength found in hard times begins and ends with one source: God's Word, The Bible.
Bible Quotes About Strength in Hard Times
Strength in Hard Times in the Bible
2 Corinthians 12:10 is a powerful verse from scripture that speaks of strength in the hard times. It talks about the Lord telling Paul, "My strength is made perfect in weakness" after Paul asked to God three times to remove this affliction.
This quote encourages us to look at our weakness and difficulties with a different perspective – instead of being brought down or discouraged by them, we should use them as avenues for growth.
The strength and comfort that comes with finding strength in tough times can only be experienced by trusting in God during our struggles.
Romans 8:38-39 is an inspiring verse from scripture, reminding us that even in our hardest times, strength can be found.
These powerful words remind us to look for strength in God's love and find comfort in knowing that despite whatever hardships may come our way, we are never truly alone.
When we often feel powerless in trying times or fear for the safety of those we love, remembering these verses can bring a sense of peace and strength knowing God's love is with us through it all.
Life can be very difficult. As this scripture says, the earth may give way, mountains can be moved to the heart of the sea, and the waters may roar, still "we will not fear."
This quote captures an important truth for us that no matter how difficult life can become or how much chaos ensues around us, God is still there with us through it all.
The words "refuge," "strength," and "a very present help in trouble" are all inspirational and promise Christians that God cares deeply about our problems.
He provides strength and comfort during tough seasons so we don't have to be afraid. Psalm 46:1-2 stands as a beautiful piece of scripture that helps bring encouragement to any believer's heart.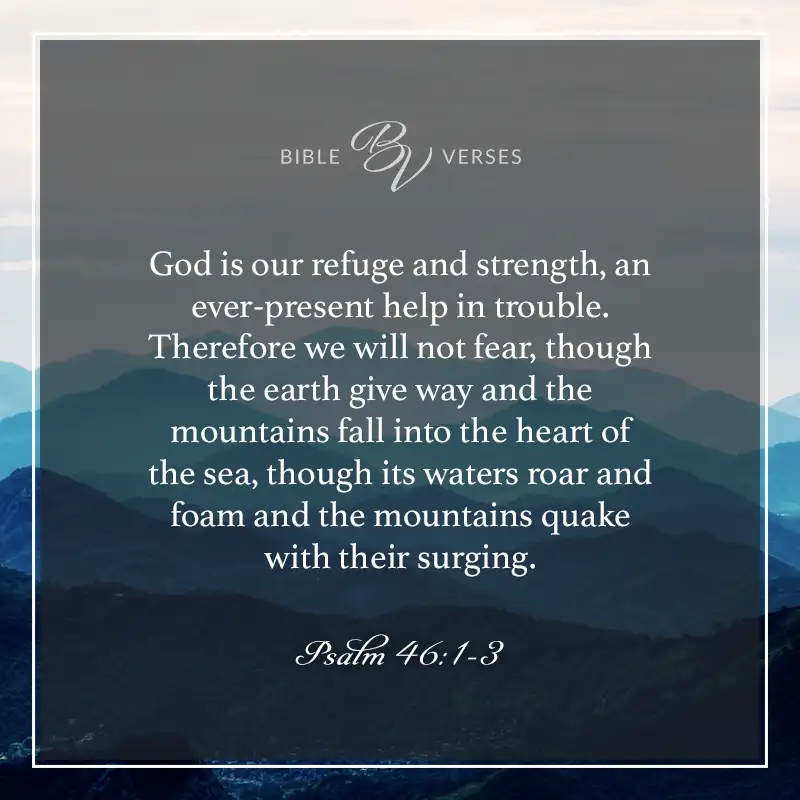 The verse from Isaiah 41:10 is an inspiring scripture for strength in hard times. This verse carries a message of hope for any situation life may bring.
God's righteous right hand is a metaphor used throughout the Bible for strength. God's right hand symbolizes strength, authority, and power over all things.
This verse provides strength and confidence that our strength should not come from ourselves alone – which can often be difficult to do – but rather from the strength of God who is always there for us no matter the circumstances.
It is a powerful reminder that we have a faithful companion who is worth trusting with our troubles.
Jesus offers us strength in this powerful verse. It is another reminder that, no matter what happens in life, God has overcome the world – and so can we.
By taking strength from this important quote, we can face tough situations with faith and assurance that God's grace will see us through.
Indeed, it is comforting to know that regardless of the challenges and struggles faced in life, strength and solace can be found in God's word.
One of the most well-known verses, Isaiah 40:31 is a soothing reminder from scripture that strength can be found in difficult times.
It reads, "But they who wait for the Lord shall renew their strength; they shall mount up with wings like eagles; they shall run and not be weary; they shall walk and not faint."
This meaningful verse reminds believers to look to God when strength is needed. By trusting in the Lord, the faithful will be able to continue on in hard times without faltering, regardless of how exhausted or discouraged they may feel.
This simple yet comforting message has been of great help to many attempting to cope with hardships during life's journey.
A Song Moses and the Israelites sang to God, Exodus 15:2 is a beautiful example of how Christians can praise God even when we are wandering through our "desert."
Whether spoken aloud or tucked away in our hearts, this quote from scripture provides comfort and hope in any situation.
Sing a song of praise to God today and see how He can come alongside even in the most difficult circumstances.
This verse in the book of Joshua is a word given to the Israelites as they are about to enter into their promised land. God is reminding them that He is with them, for them, and making a way for them.
When God has a plan, we are to be obedient while also being "strong and courageous."
This verse speaks volumes of the assurance of trusting in God's word no matter our circumstances. We can be assured that by trusting in Him, there is no situation too difficult or daunting for us to face.
God is a powerful shield, as seen in Psalm 28:7.
This verse reminds us that God's strength is greater than any misfortune or trouble we may face. He has the power to protect and deliver us from danger, and his mercy is immense.
God's protection provides us like a shield of armor, keeping us safe and supported by his power. We rest assured understanding God is always with us, offering strength in times of distress and uncertainty.
In John 14:27 Jesus encourage his disciples not to be troubled or afraid.
The Holy Spirit, who is a source of strength, love and comfort for Christians, has been sent by God as an assurance that we are never alone.
The beautiful message within this verse is one of great hope – we have nothing to fear because Jesus has promised to provide peace when faced with challenges. The words of John 14:27 remind us to choose courage and faith instead of fear and doubt; these will bring us closer to God in the moments when it feels like everything is too much.
May the peace found in this verse continue to evoke feelings of comfort and reassurance for each one of us.
Not only is God there to provide strength to us when we are facing difficult times, but He also shows us how to comfort those around us when they face difficulty.
This requires us to know our family, friends, and neighbors in a way that we can share our burdens. We can love others by providing encouragement and support when they need it.
Bible verses about strength in hard times are not only for our encouragement, but for us to share.
Deuteronomy 3:22 is a comforting reminder for all of us in hard times – the Lord will fight for you.
In the face of adversity and struggle, it can feel like the odds are stacked against us. But these bible verses about strength give us the courage to face the challenges which life throws our way and reminds us to rely on the higher power which guides our paths.
It calls forth the faithful to remember the power of their faith through trusting in the word of the Lord and the promise of divine protection, even when we can't fight for ourselves.
1 Peter verse 5:8-10 reminds us to stay strong in our faith despite the adversities of life. The verse teaches us to be vigilant and sober-minded, aware of the devil who prowls around seeking whom he can devour.
We must also focus on building each other up, rather than attacking or competing with one another.
This verse offers a powerful reminder that, in hard times, God will provide us with strength to make it through anything. His strength allows us to pick up the pieces and press on with hope and courage; nothing is too great for Him!
Despite the sufferings and injustices that Joseph's brothers inflicted on him, Genesis 50:20 shows us how remarkable of a person Joseph truly was.
Even at a point where his own family had yet to fully come to terms with their past wrongs, Joseph looked to the future and chose not to be held back by them. Rather, he encouraged his brothers to move forward and focus on the goodness in their lives going forward.
He understood that no matter what they had done in the past, it didn't have to define them or their relationships with one another.
This is truly an inspiring message that everyone can take away from this passage; don't let your faults or hardships hinder what God has called you to be and do.
Do you struggle with anxiety in a difficult situation? Philippians 4:6-7 offers us great encouragement and assurance.
In these verses, Paul encourages the Philippian believers to present their requests to God in prayer and with thanksgiving.
This passage is a call for us to trust in Him completely, for He has promised that He will take care of our worries. The peace that Paul speaks of is more than just a temporary reprieve from anxiety; it's an assurance of God's presence during difficult times.
By trusting and relying on Him, we can go forward through any obstacle we face with His help. Let us all turn to God and find the strength and courage available from Him alone.